Ever since high school,  I have avoided Shakespeare like the plague. I think everyone reads Romeo & Juliet and Hamlet in school–it's pretty much a requirement worldwide. Some unwritten teacher rule. We also did a huge poetry segment in my AP English class, so of course the sonnets were in there. *shudder* I HATE the sonnets. All that Iambic Pentameter and rhyming and perfect structure. I am much more of a free verse poet.
But, EVERYONE knows William Shakespeare. He's just the Greatest, capital G. And I'm using a lot of heavy sarcasm here, because frankly…I just never really understood why he was so Great, capital G. Ok, he wrote a lot of stuff, and it was all really fancy. But mostly it's just really hard to read, and that means it's all terribly interpreted. (Hello, guys, Romeo & Juliet is NOT the world's gift to love stories.)
Now, though, it's time to start opening myself up to the things I have been putting off. And that means, yes, even Shakespeare. grumblegrumblegrumble.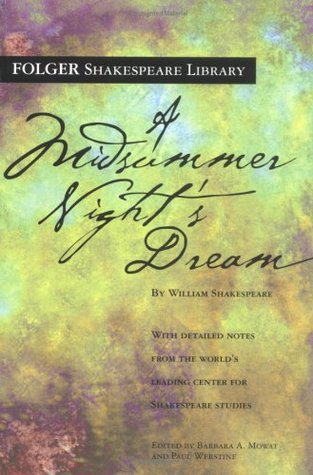 I was pleasantly surprised to find that I actually didn't hate A Midsummer Night's Dream. It also wasn't as difficult to understand and follow as I expected. If you don't know the premise, essentially there are four young people in Athens. Hermia is supposed to marry Demetrius but is in love with Lysander. They decide to run away together, and tell Helena. They think she'll keep their secret, because she's been scorned by Demetrius, who she loves. But, she tells him, trying to win his affection. Demetrius follows, with Helena at his tail. The forest fairies intervene, and chaos ensues.
I liked all of that plot. The fae were funny and obnoxious, as they should be. The lovers predictably ridiculous. What I didn't understand was the whole second plot–the playmakers. What the heck was that all about? Bottom is an ass (ok I get the joke there, William), but I just did not get it. Was it just to make dirty/satirical jokes at the end?
I haven't looked up Sparknotes to try and figure this stuff out yet. It's late as I'm writing this up, so maybe I'll look into it more tomorrow. However, I definitely have more of an open mind about Shakespeare's plays now, and may have to go back and reread Romeo & Juliet and Hamlet now. Perhaps I'll be able to follow them more easily. I still hate the sonnets though. Those are not Great, capital G.