The last few books I've read have been intense–from Game of Thrones to a nonfiction memoir about a boy genius starving in Africa. My brain has been on overdrive, and so have my emotions. I was ready for an "easy read."
And so I picked a novel about cancer.
What? So much sense I make, right?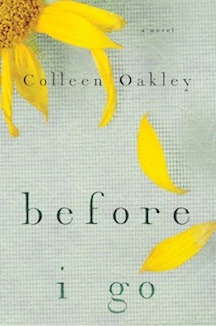 Colleen Oakley's new book Before I Go is due to release on January 6. And yes, it is about a women in Stage 4 Breast Cancer. Or, as she calls it:  Lots of Cancer. She tackles her Lots of Cancer with…not so much grace as much as stark reality, frustration, and determination. What else are you going to do when you have an orange in your brain?
This isn't a romance novel, but Oakley follows that same romance novel pattern, which I think is why it was so calming to read, even while it was an emotional subject. It's very much Women's Fiction…if not really Chick Lit.
I blew through this in an afternoon, and it was a page turner for sure. I fell in love with Daisy, maybe because she reminded me so much of myself..and Jack is so much my husband. Their relationship was so familiar, and I'm not going to pretend like I didn't get maybe a little more emotionally involved than I normally would have in a book like this.
This is one to look out for in January. I'll be recommending it to my mom and sisters. It's just the type of book they'd like!