So I finished the Laini Taylor Trilogy. And, thankfully, the last book was better than the second. Unfortunately, it still did not compete at all with the first book. I found myself skimming through this, especially at the end. I thought the ending was fairly disappointing and awkward. It just sort of ends, rather abruptly.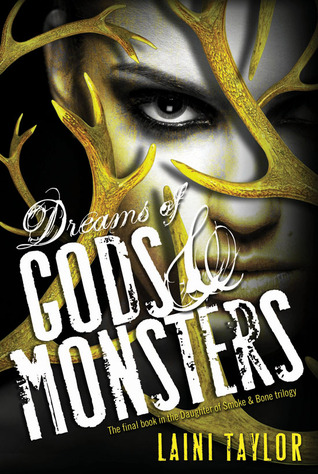 Overall, I liked the legends that were woven into the series. I think Laini definitely did some research into the angels and demons, and the lore associated with those aspects through out history. Especially within the Chimera, there were so many intricate details that made the different clans interesting. And the relationships between the characters were well done, when the story focused on them. However, the battles and war portions were confusing to me, and I just wasn't that interested in those sections. That's what I tended to skim over.
I also got really confused about Eliza and Esther. I didn't really understand the whole Fake Grandma thing. It seemed like a distraction from what was going on back at the war, unnecessary.
Would I read Daughters of Smoke & Bone again? Maybe. The other two? Definitely not. And none of the three will make it onto my shelves.