After my struggle with Laini Taylor, I was hurting for a smooth read. Thankfully, I had three holds come available this weekend all at once! First up was Mindy McGinnis's debut novel Not a Drop to Drink.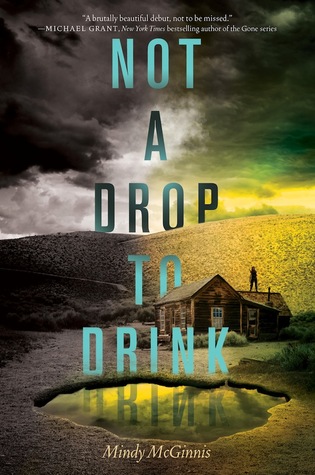 Mindy drops you into a dystopian landscape of alarming potential. There's almost no context given until the middle of the book, all you really know is that there's a mother and a daughter living in the middle of nowhere, alone, and they have to fight to survive.
I won't give away what the dystopia is, but I will say that of the YA I've read lately, especially the trilogies, this is the most likely I've seen. It is so simple, so realistic. You will sit back and go, oh wow. And then you will run out and start stockpiling.
This book also straddles the line of YA and Adult fiction. The main character is somewhere in her teens, but it never really tells us how old she is. I think she's somewhere between 16-19. There is kissing, and sex is talked about, but there is no actual sex. The relationship, I felt, was very awkward. I actually didn't ship the couple in the book, and I wasn't sure the girl did either…it was very weird. The guy was kind of like, oh, I haven't seen a female my age ever, so we are automatically going to be together. *shrug*
Awkward rural teenagers aside, this debut was successful for McGinnis. I really liked the characters and the plot. The setting was definitely alarming!
The second book, In a Handful of Dust, is due out in September, and I will for sure be reading it!