I have just finished the most wonderful book. (Coming in just under the gun too, since I finally caught up with myself on these reviews!) Blogging for Books sent me a copy of The Little Paris Bookshop, which appealed to me by name alone. I mean…Paris, books…come on. What could be better?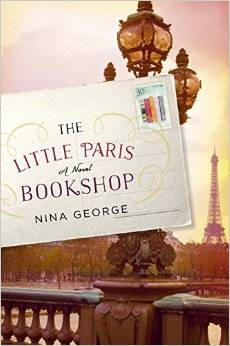 And then I started reading. Right away, there is so much emotion that it is almost seeping out of the pages. Monsieur Perdu is asked to give up is very last bit of furniture to his next door neighbor because her husband has left her and she has nothing. And sure, why not, because he still has a table left, and he's given all the rest of his furniture away to everyone else anyway–because that's just the sort of guy he is. He can hear her weeping through the walls, and if she needs his table…then dammit she's going to get his table. And a book too, something to help with the pain.
Monsieur Perdu is a literary apothecary. He has a book for every ailment. He runs his service out of his barge on the Seine, diagnosing his "patients" and sometimes grasping the wrong book from their hands and giving them a new one. Or…more likely, an old one. But always, just the right one.
On the anniversary of the day his lover left him, he reads a letter she wrote him long ago. And that letter, rather than the Dear John one he was expecting, was full of love and pain and the announcement that she was dying and didn't know how to say goodbye. A whole new kind of grief hits him, and so he goes on a journey to "find her." Along the way he meets several beautiful characters, all looking for love and life and learning.
This is one of the most honest books I have ever read. I wish I could share some of the quotes with you, but because it has not been released yet, you'll just have to wait. Seriously though, I have pages and pages written down from this book–it was SO inspiring and gorgeous. The prose is just phenomenal. The way George talks about love and the comparison between women and men made me want to weep at times.
The characters were also exceptionally written. I felt I could reach out and touch Monsieur Perdu. I certainly wanted to–his emotion was so real. I was devastated for him, and my heart soared for him whenever something magnificent happened.
I could go on and on about this book, but how about I just let you read it? Go add this to your TBR immediately. It comes out next week, June 23. Please go pick it up. Love this book.
Blogging for Books provided this book for an unbiased review.