For months I've been seeing this beautiful blue starry cover across Tumblr, and a gazillion Booklrs raving about (what I thought) was a pair of philosophers falling in love. I rarely read Goodreads reviews before adding a book to my TBR–I tend to just jump in to the story, preferring to discover along the way. My library never had it available, but they finally released the audiobook to me, and I am so glad they did. I think it was almost better in that format probably!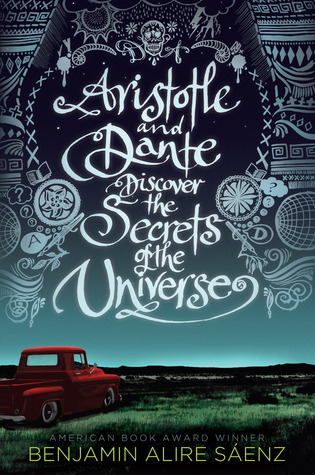 I quickly learned that this wasn't about the two ancient philosophers at all, but two teenage Mexican boys living in the desert city of El Paso. I generally can only read audiobooks while doing something–chores or walking–so falling in love with this story motivated me to walk more often! Except guys, it damned near broke my heart! Do you know how hard it is to keep pace while crying? I'm sure I got some weird looks on the trail.
Ari and Dante's friendship is completely beautiful. For those of you who haven't heard of this book before–it isn't just a coming of age story, it's also a coming out story. It's powerful, sad, happy, scary. About every emotion you can have, you will have it while reading this book. A must read this year, absolutely.
And if you like audiobooks, definitely listen to this one. The narration is extremely well done!