When I was in school, we took a field trip to our county jail so that we could see how the inmates lived. I'm sure the purpose of the trip was to scare us into submission. "Don't break the law or you will end up here!"
To an 80-pound white girl from a very sheltered small town, those big scary tattooed criminals sure seemed like the worst thing in the world at the time. I've grown out of my shelteredness for the most part, and tattoos certainly are no longer scary, but I'm still not sure I want to go wandering around in that place for long.
Still, when Orange is the New Black came out on TV, and I started seeing the trailers for it, the hype sure seemed fun. I haven't watched the show, but I was eager to read the book. And though I won't be able to make Club on Monday, I was glad we chose to read this one for Non-Fiction Night.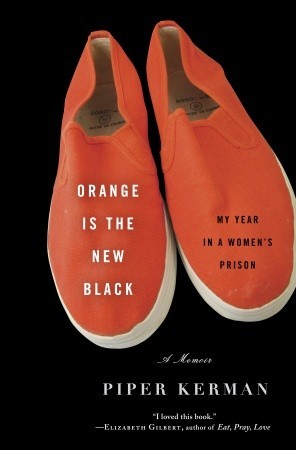 I wasn't disappointed. OTNB is a completely different perspective on the prison system than I've ever heard or seen. This was not the dark, dirty, depressed view of things. And it certainly wasn't big scary dudes with tattoos. Piper could have been one of my friends from high school–she screwed up, and paid for it, but she wasn't a bad person. In fact, most of the people in Danbury were caring and full of life.
Something I did notice was that Piper didn't list her friends' crimes. That did not matter to her. This made the women much more human. The crimes did not define the people in her story, and while I'm curious, I probably would have judged them much more harshly for those crimes. The book instantly would have been much darker.
This was a very interesting and educational memoir. I'm glad I read this, and maybe I'll watch the show now, if I can manage to put my books down!