Today's post is supposed to be titled "Favorite Nonfiction." And it started out that way. But, I couldn't leave that as the title, because, while this post is about my favorite nonfiction book, it is also about much more than that.
Susan Cain published Quiet in January 2012. Where was I in January 2012? Dating. Online dating to be specific. Meeting complete strangers for drinks at bars. It was absolutely terrifying. I was terrible at it.
And then I heard about this book. Or maybe it caught my eye at a book store, I can't remember. But Susan Cain came into my life hard. Quite frankly, she saved me.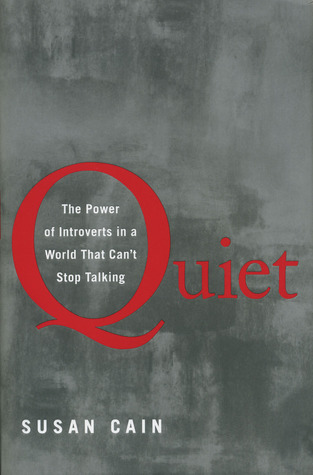 For those of you who don't know Quiet, this is a book about being an Introvert in an Extrovert's world. Cain not only describes the differences, but also goes to great lengths to help us understand ways to be ourselves and still feel comfortable and confident in today's society.
Not too long ago, my sister had my whole family take personality tests. I was not surprised to hear that everyone, except me, was some variation of extrovert. I had known that for years. They call laughed, though, when I told them mine:  INFJ (Introverted, Intuitive, Feeling, Judging). The rarest type in society. Only 1% of people have this personality. Where this comes from in my family, I don't know, but I'm definitely the odd man out.
Growing up in an extroverted family was not easy. I very much wanted to keep up with all of the social activities, sporting events, and oh please god just let me get a word into this conversation! But mostly, my brain kept telling me that my books were waiting upstairs in my room.
School, especially college, was hard. For many people, college means parties! New friends! Clubs! For me, college meant feeling extremely out of place in a very big environment. People seemed to cling together quickly and easily, and I didn't understand why that didn't happen to me. Classes required group projects, and because I was in the business school, my groups were filled with aspiring sales people and entrepreneurs. Extreme Extroverts! All of my ideas were overspoken and thrown out…if I even tried to speak them at all. It has always been a very big frustration to me when I try to add something to a conversation and I get interrupted. I'll try again once, maybe twice. After that I usually give up trying to participate.
But let me get back to January 2012. Remember that very dark place I talked about the other day? I was desperately trying to pull myself out of it. I needed something positive, fun, anything. So…online dating. Fun right? I was going to meet people. Yeahhhhhhhh….mmmk. Introvert's Nightmare.
But then I read Susan Cain's book. And she taught me that introverts need to recharge after social stimulation. I also learned how to prepare myself when I knew that I was going to be out in a big public place or bombarded with social stimuli.
So, I'd pick a bar or a restaurant that I could easily control. I'd show up 15 minutes early, and make sure I already have a beer before my date arrived–through the door that I could easily see. It made me much more relaxed and able to enjoy myself.
And hey…I found my husband that way, so it must have worked right? (Except he came in the wrong door on that first date. And I spilled beer all over myself.)
Applying these methods have also worked in other areas of my life too. R knows very well my "Haley Limits," as he calls them, and helps make sure I'm recharging when I need to. My work is busy, but I am careful to watch and make sure I'm not multitasking to the point of overstimulation (and that is a problem for me sometimes, as a bit of a control-freak). I'm blessed to be able to work out of my home, so that helps too–and I've made my office a very calm place to focus.
My relationship with my family has grown up quite a bit as well. Maturity has a lot to do with it, but also, I know now that I will never be able to keep up with all of their activities. When I'm home though, there is nothing we like to do more than open a bottle of wine and play card games. And that, I can most certainly enjoy.
I would encourage you, at the very least, to watch Susan Cain's Ted Talk. She discusses themes from her book–specifically our society's obsession with GroupThink. (Confession time, I've probably watched this 10 times.) And I really do believe that everyone, Introvert or Extrovert, should read Cain's book. It is that important. Especially for managers, teachers, religious leaders, parents–anyone who has any type of coaching or teaching role, especially with children. It is crucial that everyone is included in this world, that no one's ideas are left unheard just because they are not as bold or loud as others.
Because some of us sit here, behind computers, behind books. We have ideas too. Some of the most brilliant minds in this world have been introverts. And they only become leaders because they have to. Susan Cain mentions this in her Ted Talk. They come across more genuine because they aren't trying to steal the spotlight. They are up on that life stage because there is something out there that needs doing, and who else is going to do it but that introvert who is going to make it happen? So they stand up, even though every part of them is resisting. And at the end of it, they are beaten and exhausted and drained and small. Sometimes, it kills them. But it must be done.
Who are you listening to?