I did not realize JUST how much happened in A Storm of Swords. I knew this book covered most of the last season of the show, but I also knew that Martin spread the timeline out over two books. (A Feast for Crows covers the same chronological timeframe for the most part, just with different character POV.) It didn't register with me, though, that I would see all of the really major BOOM BOOM BOOM plot points here. For those of you who have read the books, or seen the show, you know exactly what I'm talking about.
For those of you who haven't…I won't tell you. Just get ready. Be prepared to set aside time for this book. And wine. Lots and lots of wine.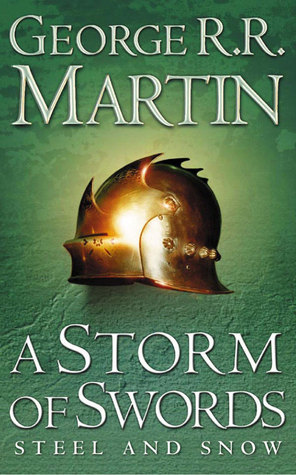 The only real individual thought I have noted down for this one is regarding Arya:
I always forget how long Arya's journey is. Everyone else's lives vary and are exciting, noteable. But Arya fades into the background so much, even though she probably has the hardest battles of everyone. Her pain is constant, with no end in sight, wave after wave of older men taking advantage or using her for her name or ransom, taking her in a direction she doesn't want to go. She is wholly driven, almost made sociopathic by her motivations and circumstances. She kills without emotion or remorse, even her "prayers" are murderous and revengeful.