There's no getting around it. I am a HUGE geek. We all know this. Ready Player One appealed to that part of me 100%. It was such a fantastic first book for Ernest Cline that everyone I know has been talking nonstop about the release of his second book, Armada. It's been one of the loudest releases I've seen in recent history–maybe because it not only spanned Booklr, but also most of Nerddom.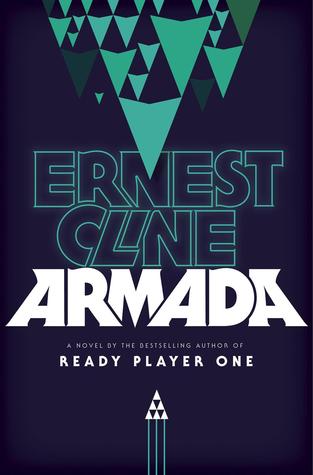 I knew I wasn't going to be able to wait to get my hands on this one. No way. And, as luck would have it, I didn't even have to buy it. The wonderful folks at Blogging for Books put it on their list of availables. Thank you BfB! This is certainly one of the most beautiful books I will have in my collection this year (the only one beating it is the Bloomsbury UK Harry Potter Collection, and well…nothing is going to top that). I couldn't wait to tear into this thing.
And then I started seeing the reviews. The very lackluster, unenthusiastic reviews.
Oh no.
Oh…no…
Maybe it'll be ok. Maybe it's just because Ready Player One was just SO good, this sophomore book isn't quite living up to that standard. I'll try to keep an open mind and go into it not comparing it to the first.
I quickly learned that 1) It's impossible to not compare it to Ready Player One. and 2)…
…I really want to just post this as my review and walk away:
But, I owe you more than that. So brace yourselves.
The key difference between the two books, is that in RP1, you're actually in the game, you're living the action. It's extremely dynamic and you can almost feel the bright color and warmth of the digital world. But Armada isn't like that. It's just a sad, ambitionless, video game obsessed high school kid stuck in front of a screen. It's not dynamic. There's no action. Picture yourself on a hot, summer Saturday, laid out on your buddy's bed eating Cheetos while he plays XBOX for hours…and you watch with nothing to do. That's about what this book is like compared to RP1.
Sounds fun, right? Yeah, I almost didn't make it past the first 40 pages because of that. To be honest, the only reason I kept going, was because on page 45, Ernest Cline made a Leeroy Jenkins reference that finally made me laugh.
The good news–the plot does strengthen after awhile. A bit. There's a super secret government agency tasked to save the world from an alien invasion, and has been training the world's teenagers to fight via video games. It's now finally time for the war to begin.
(What I found really amusing in all this is that I'm pretty sure I had a few of these exact conspiracy conversations with my ex and his friends. Even more amusing…that's where my love of the Leeroy Jenkins meme came from.)
Maybe it's just too soon after RP1, or maybe RP1 was just that great–but Armada just seems forced. My head was ready to explode from all the space game references that were packed in like Skywalker twins in a trash compactor. It reads like a publisher said, "Quick! We need another book!" And Cline ran off with all of this geeky obsessionness and just threw together every space reference he had. It was that first, plot second, character development last. Don't get me wrong, I love geeky obsessions, but we need more plot points and sentence structure, before being bombarded by lasers.
I had a conversation with a new friend of mine the other night about books with unlikely characters, or unbelievable plots, and how they will ruin a book. Now, I read a lot of fantasy and some science fiction. My mind is stretchable, I have quite a big imagination. Whether I believe in aliens or not, it is the author's job to MAKE me believe in his aliens for the span of 300 pages. In RP1, Ernest Cline made me believe that I was inside of a computerized AI system. Unfortunately, his sophomore book fell way short of that. In his epilogue, his narrator says, "This human understands enough to know when he's being messed with." And that is exactly how I felt the entire time I was reading Armada. I could not suspend my disbelief, and so the book never resonated with me. And when the end hit, well, it's just a good thing the book is so pretty, or there would be a dent in the wall.
Also…understand that I'm sitting here cringing because this is probably one of my most brutal reviews given to someone still living. I'm not sure I could have done it if he wouldn't have written such a strong first book. I'm just so disappointed in this second book…and I don't think I'm the only one. Ernest Cline, if you're out there…keep writing. Keep being your damn geeky self, and bring us more! We will wait!
Blogging for Books provided a copy of this book for an unbiased review.