I received an invite to a new Goodreads Bookclub called BookClubFiction the other day. Because I can't refuse a request like that of course I had to pick up September's book…even if I only had a few days before the end of the time period! After finishing The Name of the Rose…that left, well, today. No big deal, right?
Hubby has spent the afternoon flipping through college football, and we've been completely lazy all day long. Perfect for a little speed reading.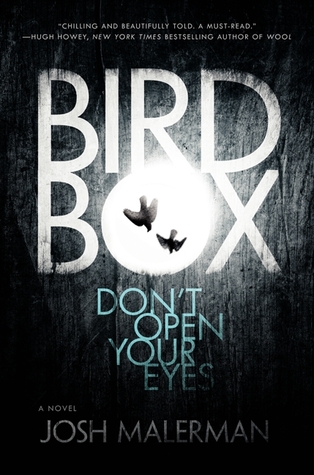 And Bird Box was a great book to do in a day. This is a very M. Night Shyamalan kind of book. Think The Village or The Happening. Something is out there, causing people to kill themselves….but no one knows what it is. The book refers to them as "creatures," but pretty much people are going insane after they see…things.
I devoured this book by Josh Malerman. It's very post-apocalyptic, and so so creepy. I love these dystopian-type books that are almost zombie-like, except the monster is an unnamed enemy. They are chilling, because we don't really know what is going to end our society, we just know that eventually, something is going to end it. It's the same feeling I had after reading Not a Drop to Drink, and watching The Last Ship.
This is an adult dystopian. There's no weird love triangle, and it's very very bloody. They also describe childbirth in all it's gory wonderfulness, so just be prepared for that. Also, as I stated before, people kill themselves, and there are descriptions on how they do so.
Towards the end, I thought this was ramping up for a sequel, and I wouldn't be surprised if one was written, but there's not a huge cliffhanger at the end. Malerman did wrap it up pretty cleanly. I would like to see what happens next and would definitely read a second book if there was one. I'm not sure I would want to see a movie on this–I think it would end up being too much of a slasher instead of the psychological thriller that the book is.
Check this out if you are a Stephen King fan, or if you liked Mindy McGinnis. You'll appreciate this one too!