Somewhere between the old world and the new, there's a powerful magic that allows people who are wiser than most to travel beyond the normal world. These people are known as the Seekers, and they have been around for centuries, descending from the Druids. The magic is guarded by a strange triad known as The Dreads. The laws they hold are sacred…or at least they used to be.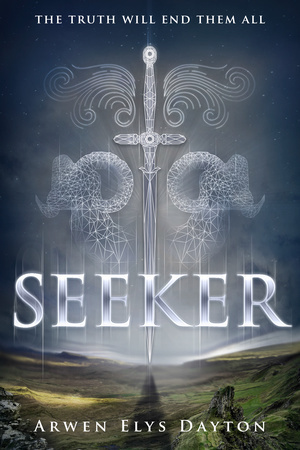 Unfortunately, in Arwen Elys Dayton's new book, Seeker, modern selfishness has caught up to the remaining clan of Seekers, and things aren't as they used to be. The legends are still there, much like our tales of chivalry in King Arthur's Round Table. But what has happened to those sacred laws to make things go so awry?
This book is going to be immensely popular when it releases in February, I can tell you that right now. I've already heard people talking about the ARC, and every review I've seen has been a positive one.
Mine is also positive–though I did think the story lost a bit of strength in the middle. I think that's just a mental block of mine though, because I always struggle a bit with the mixture of old world magic and guns. Add a cell phone in there and I just get really confused. I feel like this story should take place in 1315…not 2015 (or later).
But, other than that, I loved it. I shipped Quin and Shinobu from the very beginning. Get out of here John. No one wants you. And can I please have a whipsword for my birthday? Please please please?
Make sure you pick this up next month. I am not going to be surprised at all to see all of Booklr posting about it soon.
Received ARC for free from NetGalley
Fulfills PopSugar #11:  A book with a one-word title