Most book lovers have heard of the Bronte sisters. And it's pretty hard to be a romance loving biblophile without reading at least Jane Eyre OR Wuthering Heights…if not both. Charlotte and Emily are famous names in reading culture. Their tropes are everywhere, from the dark and brooding Heathcliffe-like teen boys in YA EVERYTHING, to the plain Janes of this world who go unnoticed but have so much to offer.
What a lot of people don't realize is that there was a third Bronte sister, Anne. I'll admit, she's missing from my shelf too, as I look up at my two beautiful Barnes and Noble Leatherbound copies of the two books above.
But this weekend, I sat down with Agnes Grey, and I fell just as much in love with Anne Bronte as I did with the more recognizable sisters, and I wonder why she is not just as famous.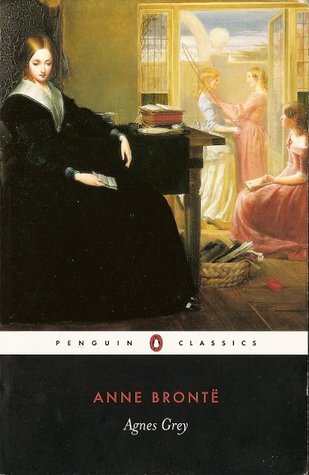 At it's base, Agnes Grey the basic 1800s story of a young girl from a family on the outskirts of society, who decides to become a governess, and falls in love with one of the men she meets along the way. Pretty typical baseline for that period.
However, there are some things I want to point out that interested in the characters and the story:
1. Mrs. Grey could have been rich. She came from a wealthy family, but fell in love with a poor man, and even though her father disowned her, she married him anyway.
2. Agnes was the youngest child, and doted on. When her family needed money, she decided she was going to become a governess to help earn it, even though her mother and sister told her they would handle the situation and she should stay home and be idle. She was determined to help.
3. I'm not sure if they had a diagnosis for "sociopath" in the 1800s, but the first children certainly showed signs of it. The older boy, Tom, liked to trap sparrows and pull their heads and wings off for sport, because "he was not a bird and so he couldn't feel what they felt". His father even encouraged this behavior. His sister was much the same way. It was very alarming. I was very glad that the book was not staged around that house for long.
4. I loved Mr. Weston. He was just so sweet and friendly, really quite adorable in how he just wanted to spend time talking with her, without being a bumbling fool like some guys can be in these novels.
I could go on, but it's just a sweet, simple novel. Nothing overly complicated or twisted or dark. I was expecting something a little more gothic, because of her sisters' writing styles, but this is really nothing like that. The romance is almost set up more like a Jane Austen novel, but with much less drama. It made for a very nice Sunday afternoon.
Fulfills Boxall  #88