HO-HO-HOoooooooooooooly shit!
NOS4A2 is basically a Christmas Story from hell, that should only be read in October.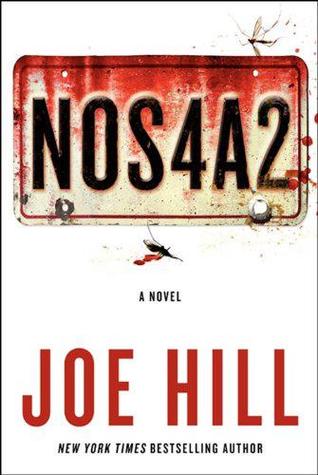 Joe freaking Hill. Wow. This is another horror masterpiece. Guys, if you haven't read his work yet, you NEED to get on it, right now. Especially during Halloween month. He does not mess around with his psychological thrillers. They blow my mind.
Imagine if Santa Claus and the Grim Reaper were essentially one and the same. This twisted, evil psychopath creature captures kids and kills their mothers, all for the "good of the children," ushering them away to Christmasland. Combine this chilling world with tesseract bridges crossed by British motorbikes, a Rolls Royce Wraith, and stuttering Scrabble tiles.
There were so many geeky references in this book I was almost giddy. Nathan Fillion is somewhere wetting his pants over the Browncoat nods. Kudos Joe Hill. Kudos. It was like a bit of comic/geek relief spattered throughout the craziness of the book, and it was much appreciated. In a world where even Christmas music is sickening and Scrabble tiles are sinister…geeky things are heroic.
Am I maybe laying it on a bit thick? Perhaps. I'm totally typing this with the Movie Trailer guy in my head.
I'm pretty sure I said this when I read Horns, but READ THIS BOOK. At least, if you are in any way inclined to love freaky psychological scary thriller type horror. Do it.
And put on your favorite holiday playlist. You won't regret it.