So what do you get when you combine Firefly with fairy tales, and add in a bit of Star Wars for flavor?
You get The Lunar Chronicles. Specifically, Cress.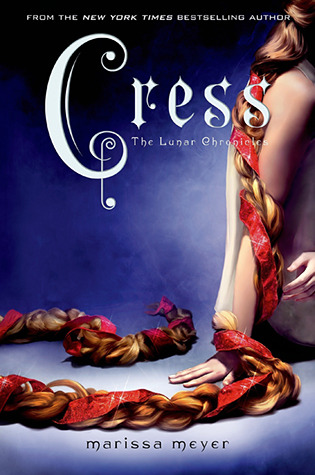 The drama really picks up in this third book, and it is so freaking cool. I'm not kidding about the Firefly angle either. So much awesome space nerdness going on–I kept expecting Malcolm and crew to pop up somewhere and cause mischief. Thorne reminds me a lot of Mal, actually.
This is the longest book in the series, but I couldn't put it down. The crew is running around pretty much nonstop the whole time, so it is very fast-paced. You never know what crazy plan is going to come up next, or what is, of course, going to go wrong with that plan.
Meyer is leading up to the eventual Lunar Wars, so there's a pretty big cliffhanger at the end of this. I'm interested to see whether Fairest is a continuation/fourth book, or if it's a prequel, companion book, or how it fits in. I know she's working on Winter currently as an end to everything. I'll be reading Fairest in a week or so, so I'll let you know! (And yes, I could just look it up, but that's no fun!)
Fulfills PopSugar #32:  A trilogy