I touched a bit on my excitement for expanded series when I reviewed Four recently. JK Rowling is the master of pleasing her fandom with Pottermore. She also put out The Hogwarts Library, as a nod to Hermoine. These three short books raise proceeds for Comic Relief and Lumos. None of the books take long to read, but are a marvelous edition to the original series. For us die hard fans–they definitely tickle our need for everything magical.
Quidditch Through the Ages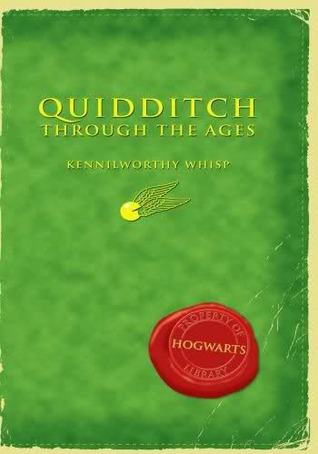 To be honest…Quidditch was my least favorite part of Harry Potter. I think it is mostly because no matter what happened Griffindor ALWAYS won (or almost always). Kind of takes the fun out of the sport, doesn't it? I mean, high school sports are always full of drama, but there was always so much nastiness in it.
Still, reading about the history of Quidditch was pretty interesting. I have a better grasp on the teams now, when they go to the big cup game, and I am firmly against baskets! My favorite part was reading about the cranky old witch who wrote the first game down in her diary. Damn idiot boys throwing leather balls into her garden!
Fantastic Beasts and Where to Find Them
The middle book in the set is pretty much just an encyclopedia of the different creatures in the wizarding world. While the descriptions of some of the beasts are interesting, there's really not much to it. (Although someone's been up to some mischief with a quill…) I am curious to see how they will turn this A-Z reference guide into a movie, and how many of the critters will make it!
The Tales of Beedle the Bard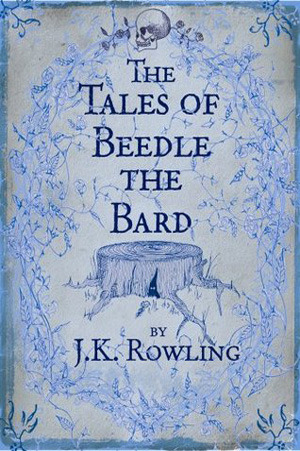 Being the great lover of fairy tales that I am, this book was my favorite of the three. How amusing to read stories where the witches are the protagonist, instead of the evil ones like in the fable we grew up with! Of course, The Tale of the Three Brothers was familiar, but The Fountain of Fair Fortune was the one I loved the most. It was such an uplifting story.
The commentary by Dumbledore added so much more to the book too. Like all the others in The Hogwarts Library–it's sometimes easy to forget that these aren't genuine nonfiction. More than once, out of habit, I started to add one of the notated books to my Goodreads, only to blink into reality and facepalm myself. Those aren't real reference books! For hardcore Harry Potter fans like myself, the Library only extends our world just a bit further…and our madness too. It just can't be helped.
I would encourage any fan of the original series to pick these up. They are cute, look great on a shelf, and support great charities for kids in need. And that's something Dumbledore would have been pretty proud of.