I've committed the ultimate blogging sin. The one, huge habit that I have had to stop doing since starting I Lay Reading.
My number one rule:  DO NOT FINISH THE BOOK RIGHT BEFORE BED.
Crap.
Why is this so terrible? I used to do this all the time–the finality of it meant I could fall instantly to sleep. Ahhh but therein lies the problem. When I finish a book, I blog it immediately (or, if I cannot get to a computer, then I at least write down a pretty detailed outline), so that my thoughts and feelings are fresh and vibrant.
Going to sleep between finishing and blogging basically smothers those feels with my pillow. My brain is sluggish and sleepy. No matter how much I loved the book (or hated it), I just never feel as good about what I have to say.
In fact…all of this is just procrastination because I didn't know how to get started…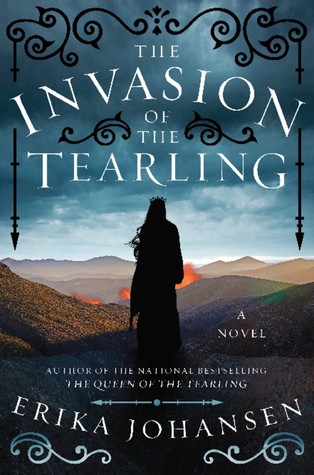 We recently read The Queen of the Tearling for the #adultbooklr Book Club in July, and I was so looking forward to the second book. It seemed like everyone jumped right into The Invasion of the Tearling and loved it even more than the QOTT, so I was dying for the library to catch up to me on the hold queue.
My coreaders were not wrong. I really enjoyed QOTT, and IOTT just builds upon the series. Book 1's setting is a little mysterious–is it medieval fantasy? Is it the future? What is The Crossing? We know there was America, and they are in something called New Europe, but where are they really?
In Book 2, Kelsea's character and magic really develop, as does the whole background of the dystopian set up. Through Kelsea's fugues, we get to see what happened pre-Crossing–who the Tear characters are, what happened to America, what the Crossing was. There's also quite a lot of character development among the other main and secondary characters as well.
I really liked QOTT for what it was, but I know some people thought the writing not complex enough, or that it spends too much time building up to nothing. IOTT builds on everything that QOTT lays out. Don't give up on Kelsea just yet, I encourage you to read the second book. It's worth it.
Buy Here: