You all have been TORTURING me with this one. So many gorgeous pictures of Marissa Meyer's Lunar Chronicles. I was raised in the golden years of Disney's princesses, and so I love fairy tales. And now everyone is coming out with their own version of our favorite girls.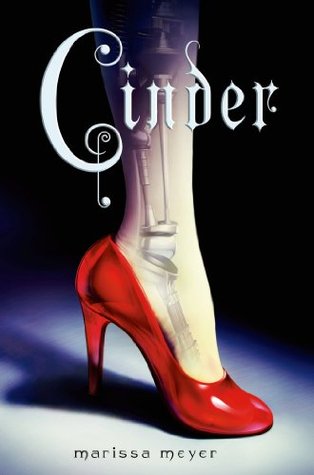 Cinder is another book I had put on hold awhile back, and finally got this weekend–I couldn't wait to read it. Everyone has been posting the hardcovers online and I'm not gonna lie–I almost just went out and bought the series. They are just too pretty.
I had heard that many bloggers didn't care much for the first book, but that the second and third books were way better, so I expected to take Cinder in with a grain of salt. No salt needed! I loved this! A scifi Cinderella? This was awesome. Cinder was totally badass, and no fairy godmother needed. There was no bippity boppity boop needed, she took care of things her own self. She did have a little help from slighty ditzy doctor, but not much.
This book kind of reminded me of Wicked, in that it was a more politicized version of the original tale. The prince was no background handsome here. He took care of business. And, there was actually a wicked witch trying to start a war, in addition to the evil stepmother.
I could go on and on, and I'm really looking forward to reading the rest of the series. Hurry up, library. I need Scarlet pronto!!