Guess I should have waited a bit, and added one more to my year end total! I didn't think I'd finish this by the end of the day, but I made it!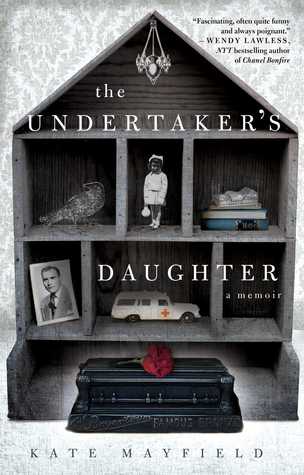 The Undertaker's Daughter will be published January 13, and it's a lovely memoir about a daughter of a Kentucky mortician in the 1960s-70s.
Kate Mayfield had a very close relationship with her father. As one of the youngest in her family, she was the first sibling to be raised strictly in the funeral home, and so she had a natural curiosity about the family business, as well as everything else around her. Her memoir tells the story of the small town she grew up in during the Civil Rights years, just south of the Ohio River.
While I enjoyed this book, whenever I read an ARC I always think about the reception it is going to get upon publishing. This is kind of a rocky time for a memoir from a white southern woman raised in the 60s to come out. While the racial issues are not quite as prominent in the story as in, say, The Help, they are definitely there–desegregation of the schools, interracial relationships, class differences. The movement is more a setting, part of the background of her story, and Kate is fighting against the racist beliefs that surround her. Still, I wonder if the release of the book will be hindered at all, because of the environment we are in currently. I hope not, but this has been a very tough year for a lot of people, unfortunately.
Here's hoping for a better 2015. Happy New Year, everyone!