With the release of the new Winter cover, and all the controversy that caused yesterday, what a better time to read the 4th book from The Lunar Chronicles.
I'll be honest, when I first saw the new cover, I thought WOW! How striking! And someone posted a picture of it on their tablet, and I think the glowing apple and the purply pink color was made for an iPad or Kindle Fire. It looked fierce and really shined on that tablet. However, after I read some of the breakdowns and discussions, I do agree that next to the other four, darker hardcovers, it is going to look weird. It is not as ethereal as the others, and the hand is definitely Levana…not Winter. Which ok–except Levana had her time to shine in Fairest.
So…striking cover for a tablet…just not quite right to mesh with the other books. Ok, assessment over.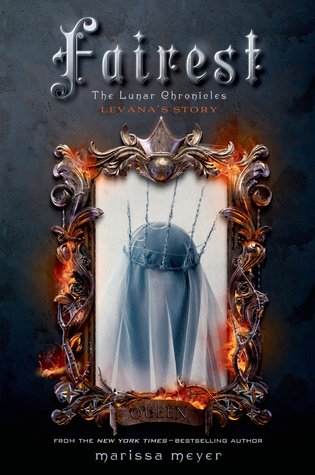 As far as Fairest goes–it was a decent prequel. It did fill in a few of the details from how Levana became the evil witch we know her to be. However, some of it seemed a little too quickly written or edited or something. I had to reread a few parts to see if I had just misunderstood a tense or a phrase or a queue, and it just didn't quite make sense. I couldn't quite put my finger on what was wrong, other than it just didn't seem to fit.
One last thing. If you're looking to start this series, keep in mind that Fairest is a prequel, but do not start there. Start with Cinder. Don't read this one until after Cress or things won't quite make sense and you will be spoiled.
Fulfills Popsugar #16:  A book from an author you love that you haven't read yet