Fanfiction of fairy tales is the "it" thing right now, and I am loving it! For some reason Red Riding Hood especially seems to be popular. She was never my favorite character growing up, but I do love the modern day remixes.
Book Club Fiction is reading Written in Red this month, and while it's been awhile since I've participated in one of their readalongs–I was able to get this one from my library in time. I am so glad I did!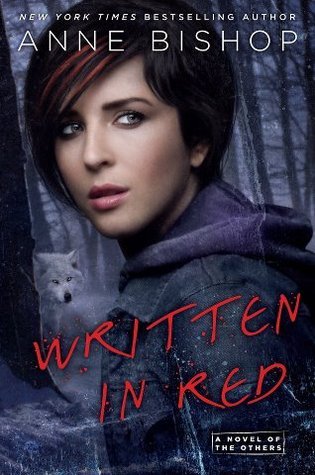 I will say that at first, I wasn't too sure about it. The prologue really doesn't explain what the Others are very well, and so the whole time I was thinking "Oooook….so you're saying if Native Americans just would have been evil cannibals, the white men wouldn't have come in and taken over?" It just seemed a little…off. Once I got into the story and realized the author wasn't talking about people at all, it made perfect sense, but at first, I was more than a little concerned.
Don't let the prologue scare you like it did me. The Others are actually ancient earth natives. Terra Indigene. Their basic form is a pumped up form of animal (Wolf, Crow, Coyote, Bear, even Vampire), but they have adapted to be able to shift into human shape as necessary. However, they hate humans, and see them as just another form of meat that they somehow have to live with.
Meg, however, doesn't smell like prey for some reason. She's different, and they don't know why. But she is scared and needs shelter, so they hire her on. Suddenly things get super complicated.
I loved this story. It was both scary and also gentle. There was friendship, but not exactly romance. I kept expecting it to break off into romance, because, you know, that's what always happens in books like this. But it never came, and it was a nice change.
I do want to give you a trigger warning. There is quite a bit of discussion and a couple of scenes with cutting. Meg was in a cult type culture before she came to The Others where the girls were cut to induce prophecies. If that will trigger you, please don't read this book, or proceed with caution, as it is a big part of the story. Please take care of yourself!
Two books in a row that I couldn't put down? Maybe my slump is finally over! *fingers crossed*
Fulfills Popsugar #37:  A book with a color in the title