Winter is coming…
…and goddammit Martin, HURRY UP AND FINISH YOUR BOOK ALREADY!!!!!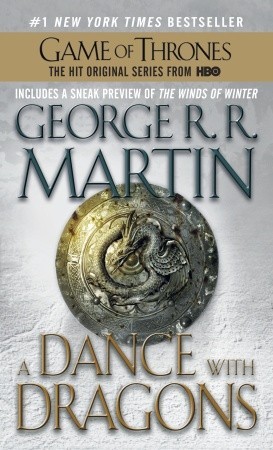 A Dance with Dragons was just as much fun, and just as frustrating, as all the rest of the series. Except, now, there is no "rest of the story" at this point. I know more is coming, but I can't just grab the next book off the shelf and holy cow what a cliff hanger. Multiple cliff hangers!!!!!!
The timeline here is a bit confusing, since it overlaps with A Feast for Crows. You see Samwell Tarly back with Jon at the wall, and it makes absolutely no sense…until you remember he hasn't left yet! For the first half of the book, the chronology is the same as the previous book, it is just a different set of narrators. Then, the timeline slowly starts to align again, and by the end of the book, everything has converged and moved on.
Oh, and remember how troubled I was about Theon Greyjoy's storyline? We see him again here, finally. And wow, I had no idea how much the show had elaborated on his torture. No WONDER I was so confused about him. On one hand, it does show more about how Theon became the damaged Reek, but geez guys. That's a lot of torture to add, that isn't actually written into a pretty heavy book. In the book, everyone just assumes he's dead. And now they've already shown the Asha card–she's already tried to go in and rescue him once and failed. How are they going to get him out the second time?
I am really looking forward to seeing how Maisie Williams does Arya's time in the Temple of the Many Faced God. That's going to be a really interesting part to play!
And, of course, I have a lot of thoughts…mostly screaming…about the ending. But, I've given away a lot of spoilers already, so I better keep my mouth shut.
AHHHHHHHHHHHHHHHHHHHHHHHHHHHHH HURRY UP GEORGE RR MARTIN!!! WINTER IS COMING!!!