Tonight, I have tickets with friends for a screening of Dark Places. Gillian Flynn's second movie isn't getting near as much fanfare as Gone Girl did, but anything with Charlize Theron has got to be good, right?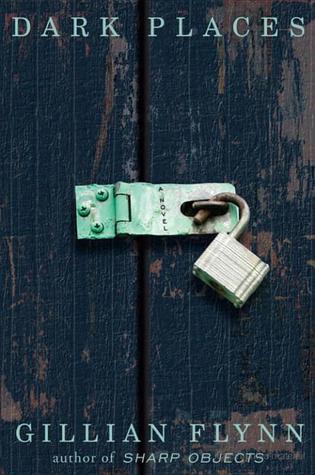 I read Dark Places a long time ago, but I could not remember anything about it, so I made sure to pick it back up before tonight's show. Libby Day is 30, broke, and unemployed. Up until now, she's lived off the charity of crime obsessed philanthropists who years ago threw money at the little girl left broken-hearted and lost. Her family was murdered by her Satanist brother when she was young, and she was forced to testify against him as the only witness. Now, those charitable hearts have moved on in favor of other crimes and she has to find money quick.
Welcome Kill Club–a creepy organization of people who geek out over conspiracy theories. One favorite conspiracy circles around the Day family and the night Libby's family was killed, and they are willing to pay her to track down information for her.
Dark Places is a very weird book. I wanted to say that I find Libby a very awkward, uncomfortable character, unbelievable in that she should be much more traumatized by what happened instead of just skimming money and using it for nice cars and clothes until it runs out. But, we all react in our own ways. The more I think about Libby and her, for lack of a better word, laziness to do anything with her life, I realize that just about everyone her world is that way–except maybe Patty. The town was full of excuses and poverty and drugs, the kind of small town where no one ever gets out.
My romantic reader brain wants her to be heroic–full of fight and power. And she does too–she even mentions it at one point to herself, when she thinks about how all she did was hide in the closet and that's why she didn't see the attacker. But, that's not who Libby is. It was much easier for her to hide after the murders, to turn away from Ben and Diane and Runner, dye her hair blonde, and use all the donations she could.
The book itself is bit of a quiet start, but there is a crescendo of action at the end. In typical Flynn fashion, she keeps you guessing and fascinated right up until the end, when all at once you will connect every single dot she left for you with one big EUREKA moment.
I'm really looking forward to seeing the screening tonight!
To buy, click here!