Ever since I started interacting on Tumblr, I wished for a better mode of communication with my fellow Booklrs. Tumblr is great for sharing our obsessions, but it really sucks when it comes to actually getting to know people. However, I recently started chatting with a bunch of fellow adult booklrs on GroupMe, and it has been the best platform for all of us to get together. I've really gotten to know some great people through the near constant conversations we have every day.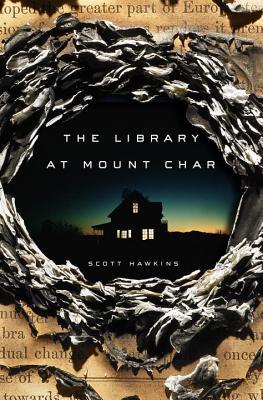 One of the books that was recommended on the GroupMe chat was The Library at Mount Char. One of the members went on and on about how good it was, so it immediately went to the top of my list. And it just happened to be a Blogging for Books selection this month, so EVEN BETTER!
Library at Mount Char goes immediately to the top of my "weirdest books" list. Goodreads calls it "Neil Gaiman meets Joe Hill," which is EXACTLY what I was going to call it in my review. Great minds think alike. It's basically a creation story and a dystopian fell into a mixing bowl together with a dash of horror gore, and then someone mashed it all up.
I'm not even really sure how to summarize it for you. Even the Goodreads description doesn't really fit. It's just a really freaking crazy book–one I couldn't put down, even when I wasn't sure if I liked it or not. More just "WHAT THE FUCK IS GOING ON?!" There are lions and atomic bombs and a guy who uses blood as shampoo.
I think my head is in a permanent sideways position, and my dreams have been pretty weird the past two nights. This isn't a book for everyone, you're either going to love it or hate it. Probably if you're a big Neil Gaiman fan, you'll love it. Just….read it at your own risk, that's all I'm going to say.
Blogging for Books provided this book for an unbiased review.
One more thing, guys! I am now an Amazon Affiliate, which means if you use my link to make purchases on Amazon, I get a piece of the pie. Doesn't cost you anything more, but helps me out a bit. Click on the book below to use my link! I'll be doing this from now on 🙂