My husband and I are both geeks in our own rights, but we don't geek in the same way. I am books, he is movies. I grew up in the 90s, and he is all 80s. Needless to say, our references just do not match up most of the time. We do a lot of side cocked glances at each other.
Every other day there is another movie he is referencing, then despairing because I have not seen it. Not only was I not born for most of his favorites–I also grew up in an all girl house, so even the 90s movies I really didn't watch. We watched Disney movies and chick flicks, instead of the cult/geek classics.
However, my love of all things geek pushes me to absorb as much pop culture as possible. And so, the longer we are together, the more of his movies I am taking in. I watched the Ghostbusters a few weeks ago, that was interesting. Jurassic Park happened for obvious reasons (mmmm Jeff Goldblum). Jaws is next on the list. The references are coming!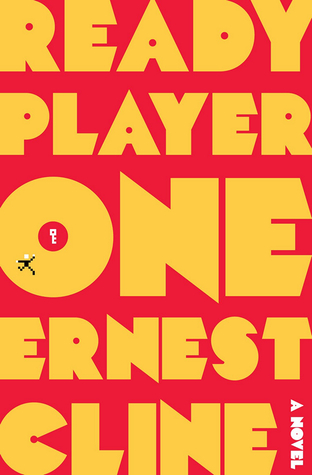 I need to get him to read Ready Player One. This is exactly the kind of book R would love. It has every single 80s reference imaginable–movies, music, games–ESPECIALLY games. The whole thing is set in a futuristic MMO world. I didn't get most of the references made, but the way everything was set up, I just loved the geek. I understand why this book is making the rounds!
It's a little Big Brotherish, with the IOI swooping in to take over everything. However, I really liked some of the concepts–especially the online school set up. The enthusiasm of the teachers, and the technology-based curriculum just sounded really amazing. One thing I do want to question here though–Parzival's schooling just kind of drops off. At the beginning he's worried about the consequences of being expelled, and then after the game starts ramping up, he just stops showing up. There are no repercussions, and no one from school seems to miss him. We just forget that he left in the middle of the school year.
This isn't the first book I've read in this type of MMO situation. I read James Dashner's The Eye of Minds and was not impressed at all. It had a similar concept–teenage boy hacking/moving around in a computer simulation and trying to beat the evil corporation. Ready Player One, published two years previous, is definitely the stronger book. Maybe it is just more fun, with the gaming concept and geek references. It's a bit more lighthearted of a YA novel, than Dashner's conspiracy dystopia. There is definitely a comparison to be drawn though.
Have you read them both? Do you have a preference?