Last night was a blast, ya'll! One of the area neighborhoods, Deep Ellum,  has a monthly Wine Walk that they put on in the summer. A bunch of shops and galleries serve in the back, and then everyone just kind of mingles around for a few hours. What a great way to get in our Fitbit steps, and check out some local shopping! We'll definitely do it again.
I ended up surprising myself–because we went out last night, I didn't think I was going to have a chance to read and finish a new book in time for today's blog. But hey, you know me. I can't leave you guys hanging!
Actually, I just picked one that I hoped would be a quickie. It also turned out to be REALLY good.
With Hannibal starting back up, I am craving thrillers. That show just charges me up for that surge of electricity I get from reading terrifying, twisted stories. (Does it say something about me that I like reading about psychopaths and broken people? Maybe…but I am a broken person too.)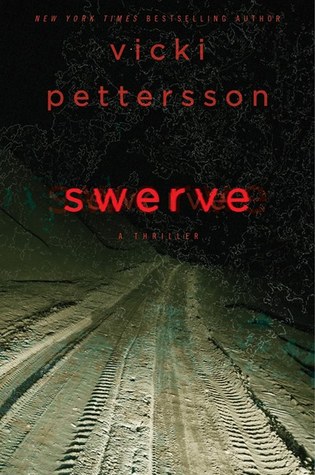 Vicki Pettersson's new book Swerve releases just after the July 4th holiday and it fills that thriller need perfectly. Kristine is on a trip with her fiance to visit his mother, when the couple is abducted by a psychopath. The mystery trucker leaders her down a terrifying road of destruction in order to save her fiance.
This book reminded me a lot of Red Dragon–even though we never got a look out from the perspective of the killer, we do hear a lot about what is going on in his head and what lead him to this point. The precision and escalation to the moments in the book, the "hot" point of the serial killer instinct, it's all very similar to how Dolerhyde escalates.
I highly recommend this for you thriller freaks out there like me. Pick this up on July 7 and be prepared for your summer to sizzle!
NetGalley provided this ARC for an unbiased review.