Everyone has been reading Red Queen lately. It is the new it cover right now. Of course it is–it's gorgeous!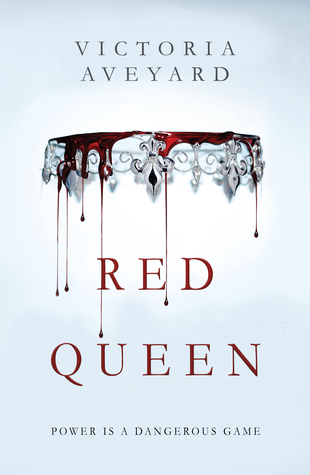 I've seen mixed reviews, but I knew I had to get my hands on this story. It took me a little while to get from the library, but yay! Just in time for our last minute road trip.
The structure of Aveyard's book is familiar, and I think that might be the cause for the mixed feelings. It's another combat dystopian:  female main character, relying on two males for help, which of course leads to the inevitable love triangle. (There's actually a third mixed in there too–can't tell if he's just buddy buddy or what that relationship is meant to be yet.) So, yes, the framing is nothing extremely unique. I'm ok with that though.
I very much enjoyed the world Aveyard created. There are two types of humans–Red blood (lower class) and Silver blood (upper class). The Reds are forced into a kind of serfdom society and mandatory military service at 18. Life means desperate poverty and misery. Silvers have special abilities–like manipulating minds or throwing fire, and they battle each other for power and notoriety. Reds lack this power and so they are held down by the stronger Silvers.
However, a rebellion is rising up among the Reds and one young girl is caught between the two societies.
This is only the first book in the series, and of course now I'm dying for the continuation. I had a hard time putting Red Queen down. Even though the tropes were familiar and somewhat predictable, I like this kind of book, and it was a fantastic addition to the genre.
Fulfills PopSugar #31:  A book with bad reviews