In November, Fathom Events had a showing at AMC Theaters of the Benedict Cumberbatch/Jonny Lee Miller rendition of Frankenstein. Being a huge fan of both actors in Sherlock and Elementary, OF COURSE I had to go–even though it was not only the first "movie" I'd see by myself, but we hadn't been in Dallas very long and it was farthest I'd been from home at that point.
That night, they played Jonny Lee Miller as The Monster (the actors played both lead roles, so there are two versions, and you don't know until the start which you will see). It was nothing short of brilliant, as I expected. If you've seen JLM as Sherlock, you can understand the kind of fast, choppy movements he can make, and as The Monster, it was 100x more exaggerated. *sob* I want to watch it over and over and over.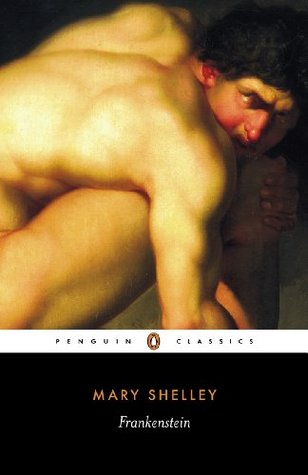 Anyway, I had not read the book, so I knew I'd have to read it soon. I'm really surprised it has taken this long. The book was just as gorgeous as the play, and I'm so glad I have a point of reference for The Monster that isn't that horrific green thing from the Halloween stores.
Mary Shelley succeeded in writing the first science fiction novel, it's true, but we have a ton of poorly written scifi books–and maybe that's why I never read this one until this point. That boxy green thing really didn't leave me with high expectations. But, her book has stayed with us because it is just so perfectly done, and it is extremely complex. This is The Monster's narrative, within Frankenstein's tale, within Walton's letters. And though we never really think of Walton's sister Margaret as a true narrator, it is her collection of his letters by which we get our final story.
It is no wonder, after four voices in one fiction alone, that so many people couldn't help but retell Shelley's story. There is science, love, horror, death, and the unknown. Man can't help but want to be God, and Mary Shelley somehow managed to illustrate this drive perfectly.
This fulfills Boxall's #74.