While for the most part, most of my reading is done with my eyes, I generally have an audiobook going as well. It takes me a realllllly long time to get through audiobooks, though, because I can't just sit and listen to one. I have to be doing something–laundry, dishes, and lately, I've been listening to one while working.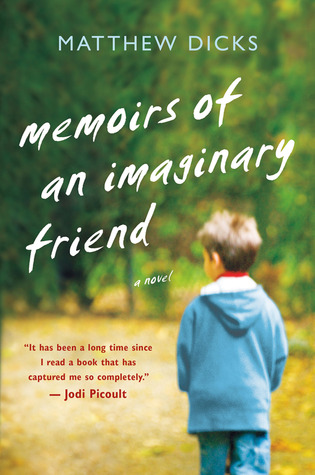 I just finished Memoirs of an Imaginary Friend by Matthew Dicks, and I am so glad I listened to this. Some books are just better on audio, and this is one of them.
It is the story of an autistic child, Max, and his trials at a public school, from the point of view of his very intelligent, very realistic imaginary friend, Budo. Max loves learning about military strategy and playing with legos, but he absolutely does not like extra kisses and bonus poops. He has a wonderful teacher at school, parents who are trying very hard to make life just the way Max prefers it, and Budo is always there to make sure he doesn't get "stuck."
Things get all topsy-turvey, though and while I'm not going to spoil it and tell you what happens, suffice it to say, there is a major crisis and something goes very very wrong. Budo has to figure out how to solve a very big problem in the real world–which for an imaginary friend is not an easy thing to do.
Memoirs of an Imaginary Friend made me laugh, it made me cry, and it really really stressed me out. It's written from the mind of one in elementary school, so the language is very simple, and sometimes the mental capacity is very frustrating. I found myself screaming sometimes, as an adult, as "not a parent" with not a lot of patience, because I wanted Max and Budo to do something just a little faster, or better, or different. But…that wouldn't have been the story.
I really did love this. And I'll be looking for more from Matthew Dicks. Whether you read this, or listen to it. Make sure to pick this up. Parents and teachers, especially, will love this I think.
Fulfills PopSugar #7:  A book with nonhuman characters