I've touted my love of horror on this blog before:  Stephen King, Joe Hill, Thomas Harris. I did not expect to find it when I picked up Ray Bradbury, but I sure did. Something Wicked This Way Comes is old school horror at it's finest.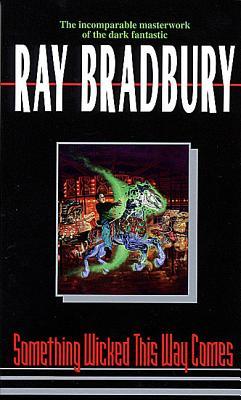 Set in quiet, classic little town, Bradbury's novel is creepy from the very beginning. We have two young best friends, with birthdays at midnight on Halloween. A storm is coming quick, so says the lightning rod salesman, got to prepare!
Except that storm isn't thunder and lightening. It's a circus that comes in the middle of the night–which made me want to don my black and scarlet. Unfortunately, this isn't Morgenstern's circus, but something much more sinister.
There is a lot of philosophy in Bradbury's book–most of it surrounding the concept of Death. The moral of this story is all about how you live your life, saving each moment in time. Death is nothing, an idealistic myth we've created so we don't have to think about now.
It was interesting to read this immediately after reading Blackford's book, because they were so closely related. I unintentionally gave myself a course in mortality philosophy. Funny how that works out sometimes, huh? And now I'm going to go play a little more George RR Martin's game.