I will be really honest with you. I am a little giddy right now. Maybe ecstatic.
The very first review I ever did for this blog was Patrick Rothfuss' Kingkiller Chronicles–The Name of the Wind and The Wise Man's Fear. I had just finished both books, and I had been blown away. Go check out that post if you want to know more, and if you haven't read them yet, WHAT ARE YOU WAITING FOR?!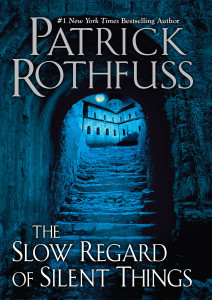 While the third book in the trilogy isn't due out until next year sometime, Rothfuss just released a novella about one of the characters in the series, Auri. My wonderful husband preordered a signed copy (my first ever signed book!) of The Slow Regard of Silent Things, and it arrived yesterday.
He had given me the tracking info–and I think the UPS man was a little surprised because I was practically waiting at the door for him. Hiiiiiii give me my book now! Kthnxbi!
I had looooooved Auri in the Chronicles, so I was so happy when I heard this story was coming out. She is such a special character–extremely shy and skittish, and very mystical in the way she interacts with the world. She knows things that no one else knows. But she doesn't do well around new people–she's almost autistic in her social interactions–that's really the best way I can describe her to you. At least that's how she comes across in the Chronicles.
But then, in The Slow Regard, her mind just explodes into brightness and force. She is the only character. Or I should say the only animate character, unless you want to count a firefly like object. She is princess of the underworld, almost a faerie like creature down there. She understands everything about everything–how every piece fits together perfectly to keep the world turning. And if one of those pieces stops working, or gets bumped out of place, everything crumbles. She spends her whole life balancing on a fine wire, holding everything together, figuring out the puzzles and mysteries of inanimate life.
I know those two words don't seem to fit together, but it makes complete sense to Auri.
Rothfuss cracks me up because he is so underconfident in his work that he has Author Notes at both the beginning AND the end of the story apologizing that this is not a normal kind of book. He is so sure that we are going to hate it because there's only one character, and Auri makes soap for 8 pages.
But Patrick, if by some miracle you see this review…
I don't often give 5 stars to a book, even though I love many. So rarely do I call a story perfect. This is a perfect story. Now, it does help to be familiar with the Kingkiller world in advance. Things do fit better that way. But, even without it, I think people will enjoy this. They don't HAVE to know who "he" is to feel the wonderful sense of anticipation that is coming. The naming is in the story, but not in such a way that they will be confused, because Auri is so different from the other Chronicle characters.
Guys, read this novella. It is simple, it is sweet. Auri is one of the loveliest characters I have ever read. I want to read it again already.