It's been a little while since I've read a true historical fiction novel. Sure, a lot of what I read has old world feel to it, but it all seems to be based in fantasy.
It was refreshing to take a dive back into a period of time that actually happened–1300 BC. I was reading names that, while I couldn't necessarily pronounce them, I at least recognized them from World History classes. I like making the connections between those people in stories like that, seeing their actual relationships (knowing of course that they are somewhat fictionalized, since we cannot know exactly what happened so far in the past). It helps to put a face on those dull lessons that I had back in school.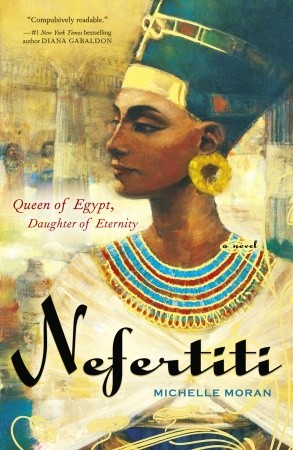 Michelle Moran's Nefertiti was extremely entertaining, while being educational. There was so much about that period of time that I did not previously know. For instance, I did not know that having two wives was the norm, or how Nefertiti became Pharaoh. The competition and politics between the two gods was extremely interesting as well, especially when it came to changing the names. I didn't even make the connection to King Tut at first…until they changed his name!
I have mixed feelings about the sisterly perspective. On one hand, it gave us an outsider's look–and so we could see much more about city life, and the emotions separate from Nefertiti. However, that means we didn't get to know anything about her secrets, her true power, and her relationship with Pharaoh. And maybe that was the point–probably no one knows the things that she did. Those are known only to Nefertiti. Still…I have so many questions!
If you like historical fiction, you'll enjoy this. Mut is a terrific narrator, and the rest of the characters are really enjoyable. Everything meshes well in the novel, and it's just a smooth, lovely read.