There are some books that are all about timing. If you read them at the wrong point of your life, they aren't going to make any sense, and you'll think they are the worst book ever written.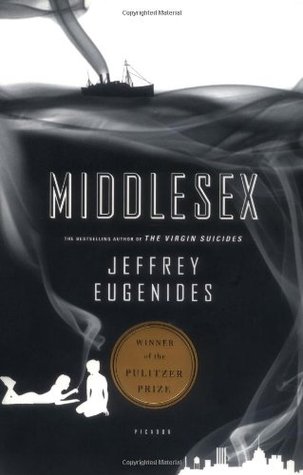 That's how Middlesex was the first time I picked it up. I remember when it first became really popular when I was in high school. I'm from a very small, conservative town and I hadn't been exposed to much, so I'm pretty sure I didn't get too far my freshman/sophomore year of school.
It wasn't that I wasn't open minded, I just hadn't been exposed to many of the topics in this book. This book has some pretty massive topics, and when I had hardly been exposed to the topic of sexuality yet…the idea of genders outside of male and female was outside of my grasp. (And while I know now that sexuality and gender are different, at 15/16…I was not quite as far along in that type of knowledge kids today are.)
Now, however, is the perfect time for Jeffrey Eugenides. The same fights and struggles occuring in Middlesex are those I hear about constantly online and in the media. The Black Bottom Riot is, essentially, Ferguson. And I can't go on Tumblr without learning something new about the diversity in gender and sexuality that even a year ago I never knew existed. The world I live in is so wonderfully diverse, and the older I get, the more I'm learning about the people in it.
I loved the family history in this story. I admit I did cringe over the sister and brother marrying, but that was what brought about our main character. It was another time and another need. But the Greek culture and history in the book was extremely beautiful, and yet another part of the world that, aside from the common mythology, I don't know much about. I know there was a war with Turkey, but that's about the extent of it. Mark that down on the list of things to study.
That list just seems to get longer and longer, eh?
The voice in the characters were really well written. I could hear the Greek accents in my head (except for last night…but that probably had something to do with the all day Sherlock binge), and I even found myself looking up a few of the italicized words for their meanings because I was going on a tangent with the characters.
I say read this, but when you're ready. It is a sensitive book to read, and not one to take lightly. You will come away changed. But that is the definition of literature, isn't it? It makes you feel something, think differently. You will look at people differently after you read this.