I have been absorbed this weekend, the last weekend before things really get moving. We leave for our three day Dallas trip on Tuesday…and I've been curled up on my couch, eyes glued to The Goldfinch. Oops. Such is my life. Hey, I did get the laundry through the wash, so I can pack this afternoon!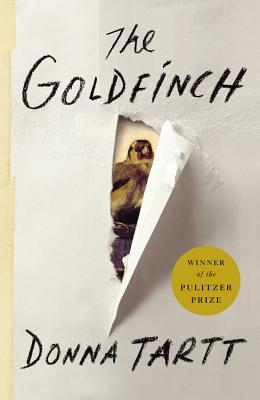 Donna Tartt's novel is a meaty one. 771 pages, full of some serious themes. You wouldn't think by looking at the fairly bland cover–just a simple pretty bird hiding in a torn white foreground–but this is a book full of drug addiction and depression. It is not an easy book to get through. The basis of the story is a bomb attack on a museum, and a boy caught in the crossfire. An important piece of art goes missing at the same time, and his world crumbles with the building.
Theo is the type of person you normally think of on the outskirts of a social circle, at least in my mind. The sketchy, scrawny one, that so often fades in the background. He's always around but everyone tends to forget his tragedies until it's too late. His best friends are always the popular kids, the rich kids, and often, the brawny protectors. Someone he can cling to. But eventually, there's always a point where he drops off the cliff, and his rock bottom.
This is one of those stories.
If depression and addiction are triggers for you, don't read this. There's also some gun violence towards the end.
This book consumed me. Tartt draws you in from the beginning and doesn't let go. The relationships are perfect, although I was convinced at one point that Theo was homosexual–so intense was his connection with Boris. I loved their friendship, rocky as it was at the end. And Hobie. Hobie was such a beautiful "dad" to Theo. I wanted to kiss him at several points of the story for being so wonderful.
Read this. Read this. Read this.