Remember that time when I was stressed out about getting to many library holds at the same time, and not having enough time to read them before we went on our trip? Yeah….about that.
Ransom Riggs' Miss Peregrine's Home for Peculiar Children stood out whenever I'd see it at a book store. It's hard to pass by it, as it has a very creepy cover, and when you flip through it, there are even more spooky pictures on the inside. Black and whites of circus-like people–seemingly altered photos, not very clear, and very freakshowish. They send shivers up your spine.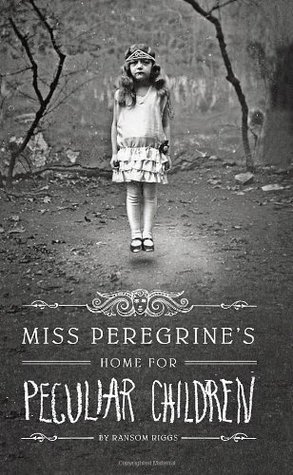 The story itself is based around an orphanage from the WWII era, but it's not just any orphanage. All of the children there have something "special" about them. At first, you think they are just refugees from Jewish families, but not so much.
A "normal" kid from the present travels to the island where this home used to stand, to find out more about his grandfather's history, and gets way more than he bargained for.
I liked the story. It's definitely interesting and spooky. Jacob was a well thought out character, but while I liked the idea of the children, I thought they were a little two dimensional. There was just something missing. And the whole "love triangle with your grandpa" thing…ew. Even Jacob thought that was weird! Trust your instincts, buddy!
I'm going to give this 3 stars. I probably won't read it again, but I will read the next book, Hollow City, just to see what happens.