Oh the dreaded Second Book Fever. I loved Daughter of Smoke & Bone, and I was so looking forward to continuing the trilogy.
But what is it about the middle books in trilogies that are just so awful? The first book lays out the story, draws you in, usually has the basis for the romance if there is one. It has the cliffhanger at the end.
And then the third book has the climax. The action. The big finale.
But the poor second book. It's usually just so boring. Most of the traveling, the battles, the wheeling and dealing–that all happens here. But it's nothing really exciting. It's just day to day, getting from point A to point B.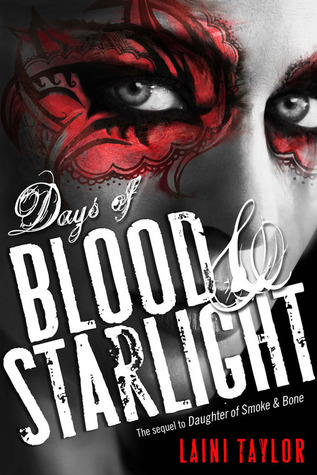 Unfortunately Days of Blood & Starlight  is no exception to the rule. When it comes to war books, I tend to like the stores surrounding it all. The people involved, their lives, and everything leading up to and after the actual battles themselves. But I just don't care to read about the nitty gritty battle descriptions. That holds no excitement for me at all. And that's what this book was built on. This is all about the war between the Chimera and Seraphs. I get it, it's needed, and crucial to the trilogy…just not really my thing.
I got through it, and I'm hoping the last book, Dreams of Gods & Monsters, wraps it up more interestingly. I so loved Daughter of Smoke & Bone that I would hate to see to see it be a trilogy that should have stopped after the first. We'll see. I already have G&M from the library, so I'll be starting that right away. I'll let you know what I think.
Has anyone else read this series? Did you struggle with the second book too?