If you look at home videos of my younger days, I liked to show off. A LOT. I have two younger sisters, and we would put on pageants, theatre, runway shows. The one that comes to mind specifically happened shortly after Prince of Egypt came out, where we donned costumes and sang the full soundtrack, LOUDLY, in our semi-formal living room (it had blue carpet…the Nile River, DUH).
At home, I was completely comfortable, free to be me, which was loud, social, and creative. But then I hit kindergarten and my mom started getting reports from my teachers that were completely different from what she saw at home. And she started worrying. Sure, I was "president" of all of the group activities, active and enthusiastic in the classroom when the teacher was around and calling on people. But when it came to actual social things, like recess or voluntary things, I was always by myself. And I was almost always reading. To my VERY extroverted mother, this was not normal. Why didn't I want to play with the other kids? Why all of the sudden was I so shy, and why was I sitting on the curb at recess?
We talk about this often now, because when I was in high school, and absolutely balking at every social activity imaginable, I thought she just did NOT understand that I was an introvert. My two sisters are pretty extroverted too, so for me to be the only one who would much rather stay in her room rather than go party…I felt that just no one got me. Now I know that she was trying to be encouraging…not torturing. She actually did know, it's just hard for an extrovert to counsel an introvert. About as hard for an introvert to relate to an extrovert mother!
My introversion has come a long way since then. I'm still an observer first, and until I'm completely comfortable in a situation, I usually keep quiet. I'm much better in small, intimate groups and one-on-one. Give me a little pub where I can get to know the man/woman tending bar, instead of a crowded, pounding club.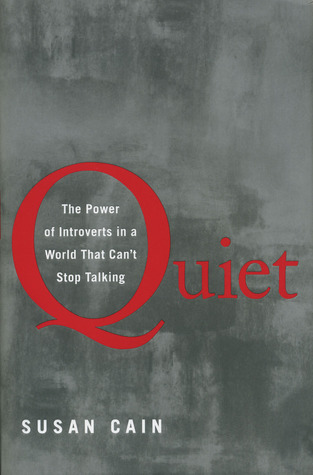 Why am I telling you my whole life story? Because my favorite non-fiction book is Quiet by Susan Cain. Every Introvert will cry when they read this because YES YES YES SOMEONE UNDERSTANDS FINALLY WHAT WE GO THROUGH EVERY DAY. And I want to give it to every Extrovert parent of an Introvert because it helps to show how to relate between the two. I want to give it to teachers, managers, CEOs. Basically, everyone should read this book.
I read this in about 4 hours. I devoured it. We live in such an extroverted society, where people are expected to be as outgoing and go-get-em as possible. If you can't be popular and society-driven, you are going to get run over. Those of us who need to recharge in quiet, and heaven forbid if you have an anxiety disorder, life is so much harder, if not near impossible.
And for those Extroverts out there saying, "What about us? Introverts need to learn how to deal with us better too!" You are absolutely right. And I'm getting better. Learning why I react the way I do to certain simulations, and knowing that I can only handle so much of those stimulations before I have to recharge, has helped me so much. When I was dating, I would show up 15 minutes early, get a beer, and get settled so I wasn't so anxiety-ridden. And if I have a meeting, or group event–like book club on Mondays–I do the same thing. I'm learning what I can handle, and what I can't, and what I can do to deal with social situations.
There you have it. Way too much information about me, and a little bit about my favorite non-fiction book. But that's what this is all about right? We learn from reading, and we learn from each other. As you can see, this is a subject near and dear to my heart. I know there are a lot of Introverts out there who feel the same way I do, and have been hurt badly because they don't know how overcome it. One step at a time, and don't wait too long to recharge. We need the quiet.